Hi everyone, welcome back to my beauty and personal care blog. Today we wanted to follow on from our hair tips and products post, and talk about curling irons.
There are four key things to look for when choosing the perfect curling iron. Firstly, you need to decide what the width of curls you want. A smaller barrel creates tighter rings of curls, whilst a larger barrel will produce bigger looser wavy curls. Secondly, you need to think about how hot it gets. Is it hot enough to curl your hair? Is it too hot it will burn your hair? Thirdly, is it high quality. How long will the curls last? And finally, ease of use. Does it fit into your hand easy? How easy is it to use?
Unfortunately, you can't always tell if a curling iron is going to work out best for you. Which is why I've come up with this list of my favourite types of each curling wand.
Marcel Curling Wands.
Marcel curling irons are the go to curling irons for professionals and celebrities. They produce some of the best curls out there. But are also notorious in the beauty world for being hard to handle. Built without a spring it requires precision and control. It can be manipulated to create both large or small curls. Marcel curling irons are far less likely to crease or mark your hair.
Hot Tools 1" Professional Marcel Curling Iron for Full Curls and Waves
If you've been using curling irons for a long time, or use them on someone else then I highly recommend the Hot Tools Marcel. If not, maybe wait a while, or check out the advice from Gisele's hairdresser; http://www.allure.com/story/harry-josh-marcel-curling-iron
I purchased my Hot Tools Marcel Curling wand for cheap from a second hand ads website. Find them here; http://www.used.forsale/hot-tools-curling-iron
Clipless wand
Clipless wands are incredibly versatile. Thanks to the removal of the clip, they can create soft beachy waves, or close ringlets incredibly easily. They also look incredibly natural, only bettered by the Marcel.
Remington Pearl Ceramic Professional Curling Wand
If you're looking for an easy to use, versatile curling iron then I'd suggest giving the Remington Pearl Curling wand a go. It also gets bonus points for being ceramic thus protecting your hair and adding shine.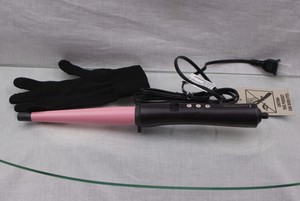 To buy your own Remington Pearl Curling wand check out online classified ads websites such as www.used.forsale.
Spiral Iron
If you're looking to create retro, hollywood curls then look no further. Thanks to the cylindrical shape, and tapered wand you can create perfect curls. The spiral can help guide you hair through the wand, creating beautiful S-patterned larger to smaller curls in one area.
Conair Spiral Styler
If retro curls are your thing then try out the Conair Spiral Styler. It heats up instantly and has 25 different hair settings, perfect for those with fussy hair.
I've found some great deals online for spiral irons. You can buy conair curling irons for sale at http://www.used.forsale/conair-curling-iron.
Thanks for checking out my post. If you'd like to read more botu beauty products then check out our latest post on the World of beauty products.